SPECIAL Rich Plum Christmas Cake available!!!
The perfectly moist, heavenly, rum-packed Christmas fruitcake! You have to try it to believe it! 🙂  Limited cakes available, so hurry!
Along with the family holidays, delicious meals, subtle and beautiful decorations, the Christmas tree, and the melodious carollers, there's also the traditional Christmas cake that's a ritual in so many homes.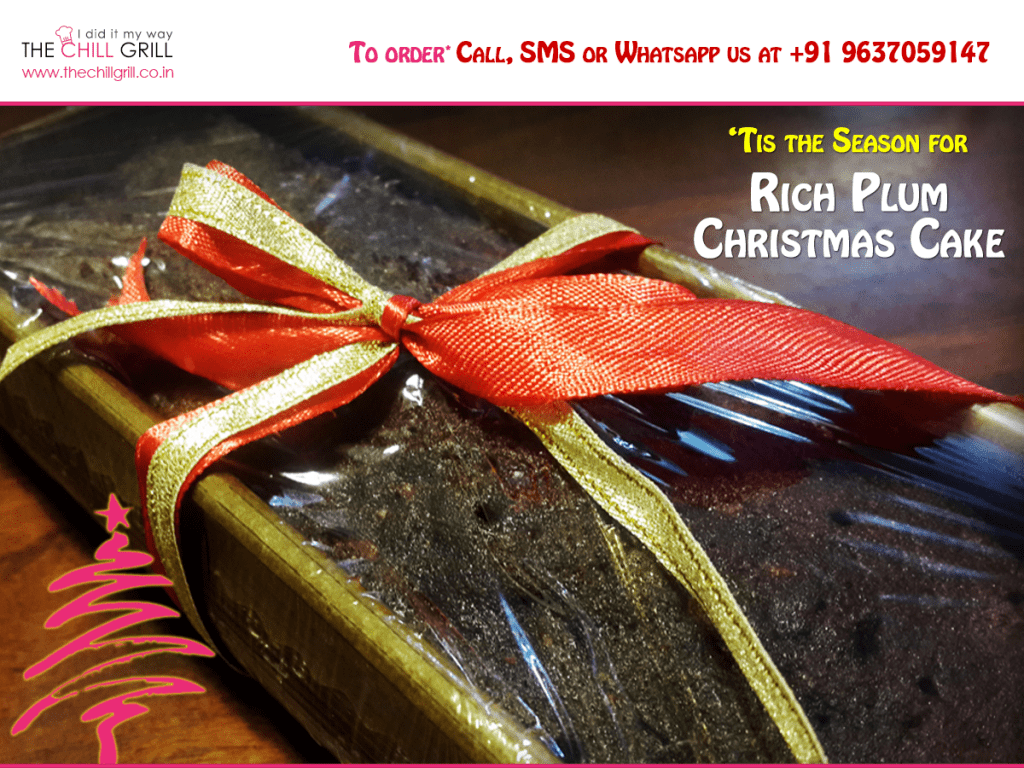 To order* Call, SMS or Whatsapp us at +91 9637059147
Happy Holidays!
---
 OUR FIRST PRESS RELEASE!
MIRROR TRAWLS THE INTERWEB FOR THE MOST STALKABLE FOOD BLOGGERS AND MOUTHWATERING FOOD SITES
A small blog just yet, The Chill Grill has a handful of (growing) posts, which breezily outline the home chef adventures of 'food fanatic' Marsha. The posts are generally accompanied by a fun fact about the subject of the day, followed by the blogger's personal experience on what inspired her to cook it. There are a few lovely entries based on Goan cooking, including the like of Goan Chourico Chilli Fry, Patoyos/ Patoleos/ Patoddios, and Chicken Cafreal — as well as an elaborate whole Roast Chicken. There are also posts on how to get the basics right — The Perfect Pie Crust/Short-Crust Pastry, A Couple of Cream Cheese Frostings, Classic French Toast, Better Buttermilk — while other sections supplement you with simple, tasty recipes for a regular meal, like Baked Fish in Lemon Garlic Butter Sauce, Sausage Potato Quiche, Pepper Chicken Noodles, Spaghetti tossed with Spinach, Mushrooms & Minced Beef, etc. I, for one, definitely want to give that Rajasthani Laal Maans and Banoffee Pie a trial!
Why fave?
Besides blog posts on yummy, easy-toreplicate baking, Marsha also whips up the occasional birthday cake for special Pune-based dos, as well as a culinary ode to some occasions — like cupcakes dedicated to Valentine's Day for example, — based on advance orders.
---
VALENTINE'S DAY SPECIAL!
Thanks to the support, encouragement and err… pressure from friends, fans and family, The Chill Grill welcomes its first orders this Valentine's Day! And since nothing screams 'I love you' better than anything red … and pink, we bring to your doorstep our very own RED VELVET and PINK CANDY cupcakes! So whether it's your spouse, your fiancee, your secret admirer, your parent, your kiddo or just anybody you want to say 'I love you' to … say it with a cupcake!
ONE DAY LEFT: 300+ cupcakes ordered. Have you ordered yours yet? 
Final orders by 11th Feb 2015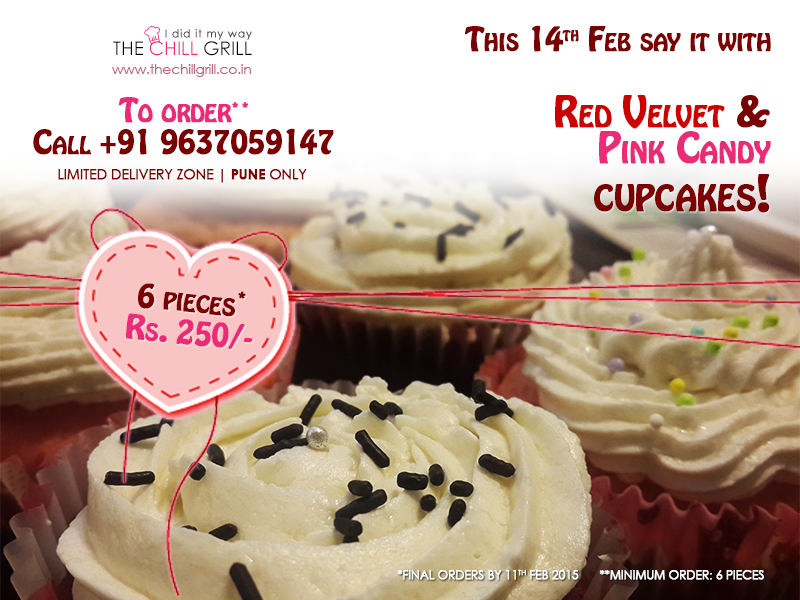 Our first advertisement for our first order
It got us an overwhelming response and our busiest Valentine's week ever.